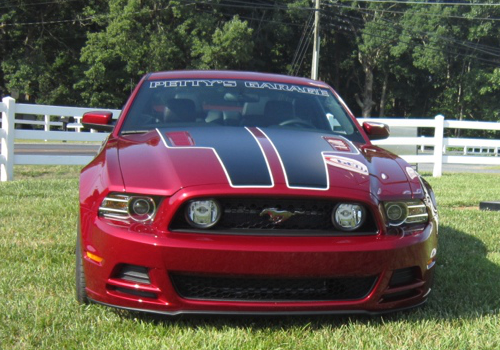 2014 Mustang GT
Supercharged with two levels of HP
550 and 625 HP depending on what you need
Petty's Garage Big Brake kit for Mustang's
Magnaflow CatBack exhaust
Forgeline monoblock 19" wheels
Conti DWS tires
Petty's Garage custom Alligator Leather package
Petty's Garage 2-way adjustable coilovers
Petty's Garage suspension upgrade to include LCA, Adjustable third member, Adjustable Pan hard bar
Petty's Garage Race Spoiler
Barton Shifter
Petty's Garage Mustang Decal Package
Car signed By Richard Petty
View Gallery Images = Click Here
For more information, contact Petty's Garage: 877-498-3745 / This email address is being protected from spambots. You need JavaScript enabled to view it.

Writen by Sean T Johnston
Original Article: https://social.ford.com/

---
One of a kind Apollo Mustang
Okay, we admit a Mustang won't get you to outer space, but this special edition sure looks like it could come close.
Celebrating the innovation and technological achievements of the U.S. space program, Ford recently unveiled a one-of-a-kind Apollo Edition 2015 Ford Mustang. The Apollo Mustang represents the latest in a growing line of unique, aviation-inspired Mustangs.
Ford F-35 Lightning II Edition Mustang Celebrates 50 Years and Supports Young EaglesFord F-35 Lightning II Edition Mustang Celebrates 50 Years and Supports Young Eagles
---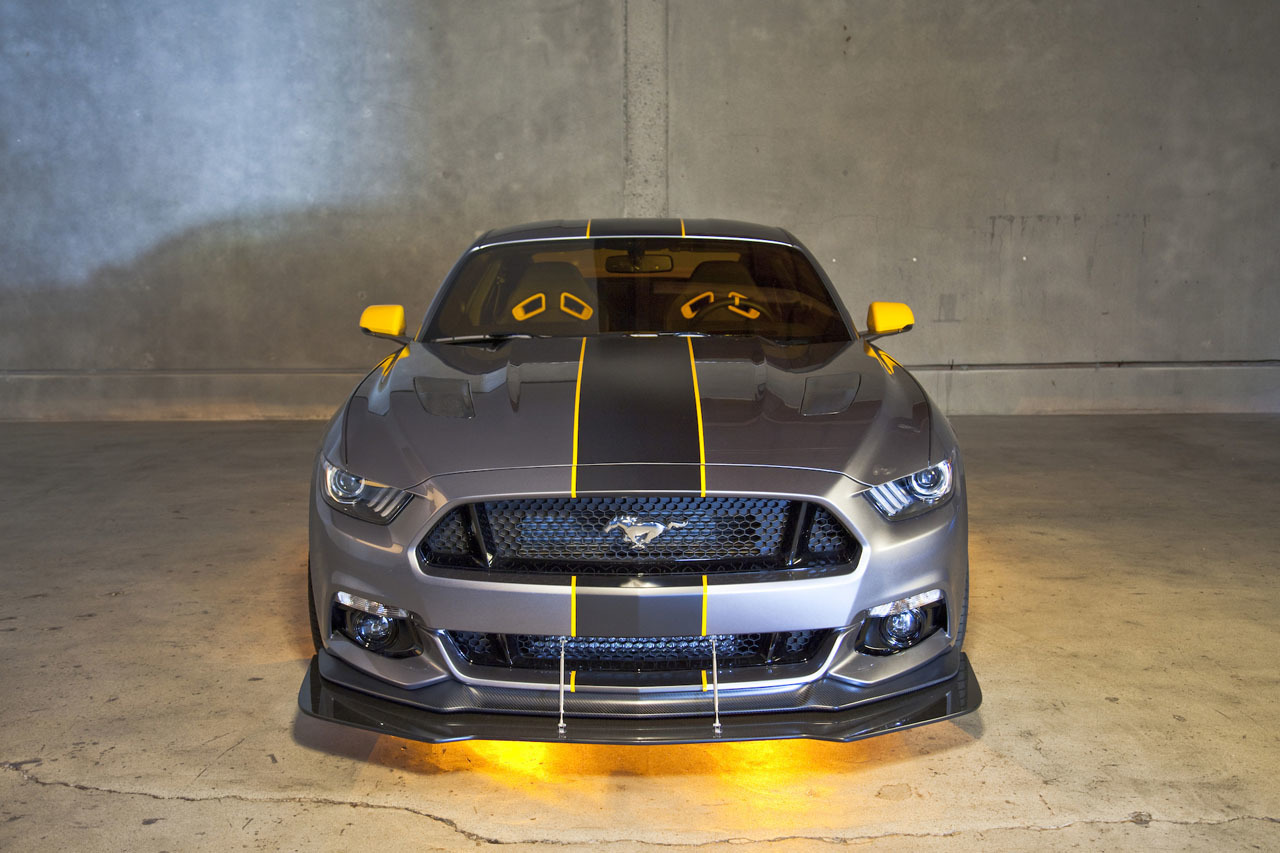 • New F-35 Lightning II aircraft inspires one-of-a-kind 2015 Ford Mustang design, to be donated and sold at a charity auction, July 31 at EAA AirVenture in Oshkosh, Wis.
• The sale will benefit the EAA Young Eagles foundation: Ford vehicles have collectively raised more than $2.5 million to support Young Eagles
• This one-of-a-kind car is one of the first all-new 2015 Ford Mustangs to be sold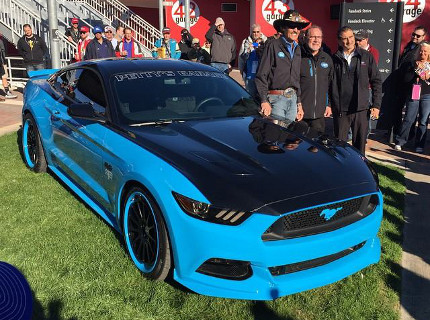 2015 Ford Mustang GT - Richard Petty Signature Series concept
This build was commissioned by Ford Motor Company. We're proud of our partnership with Ford for this project and excited to get into the 2015 Mustang customization market.
Supercharged
Two-tone Petty Blue pearl and black metallic paint
Color matched three piece wheels
Custom center-exit exhaust
View Gallery Images = Click Here
For more information, contact Petty's Garage: 877-498-3745 / This email address is being protected from spambots. You need JavaScript enabled to view it.

https://www.autoblog.com/2018/08/21/eagle-squadron-mustang-charity-new-owner-dream-cruise/#slide-7402377
A couple months ago, we told you about a special one-off Mustang GT built by Ford Performance and drift champion Vaughn Gittin Jr.'s RTR Vehicles. It's called the Eagle Squadron Mustang GT, built as a tribute to volunteer American fighter pilots who served alongside the Royal Air Force in World War II prior to the U.S.'s entry into the war. Now the 700-horsepower pony car has a new owner.

During last weekend's Woodward Dream Cruise, Gittin handed over the keys to Brayton Williams, who submitted the highest bid of $420,000 at the Experimental Aircraft Association's fundraiser and auction last month in Oshkosh, Wis.

Gittin drove the car at last month's Goodwood Festival of Speed, where he was buzzed by an Eagle Squadron Spitfire airplane. It's painted in a camouflage design to match the original Spitfire, and it features Gittin's Mustang RTR carbon fiber wide-body kit and design package, including a front chin spoiler, rear diffuser, upper grille with integrated lighting and a Gurney lip added to the performance pack rear spoiler.

The Ford Performance supercharger kit under the hood first debuted at the 2017 SEMA show and helps the 5.0-liter V8 make 700 hp and 610 pound-feet of torque at 12 psi of boost on 93-octane fuel while maintaining the factory warranty. The car also gets an RTR Tactical Performance Suspension Package, with adjustable dampers, lowering springs and adjustable sway bars, plus staggered RTR Aero 7 two-piece forged wheels.

Inside, there's Recaro racing seats with embroidered Eagle Squadron logos, a hand-engraved shift knob made from metal melted down from an F-35 Lightning, a hand-engraved badge made from genuine Spitfire aluminum on the dash, and custom leather.

Williams celebrated his new Mustang by driving it in the Dream Cruise.

It's the 10th one-off Mustang Ford has provided for the auction, with all proceeds donated to the organization's youth education programs supporting the next generation of pilots. Ford has helped the Experimental Aircraft Association raise more than $3.7 million.
images from © Motor1.com/Hersteller
Dealer-Built Mustang Gulf Heritage Edition Packs 800 HP, Costs $140k
Article By: Christopher Smith 8/12/2019
BROWN LEE PERFORMANCE GULF HERITAGE MUSTANG
Brown Lee Performance will build 119 of the retro-themed pony cars.
This year at Pebble Beach you'll see not one, but two Ford Mustangs wearing the iconic blue/orange Gulf racing livery. Last week, Roush teased a bespoke one-off build for a special customer but we've yet to see the full enchilada. Today, we have yet another Gulf Mustang – this one from Tennessee-based Brown Lee Performance – and yes, you can buy it. That is, as long as you're cool with spending $139,995 on a 2020 Mustang GT.
That is indeed a serious chunk of change for a pony car, but you do get more than just a classic livery on a modern 'Stang. Among other things, Brown Lee Performance says this is an official Gulf Heritage Mustang, made official apparently though a license agreement with Gulf Oil that mimics the livery from the LeMans-winning Ford GT40 in both 1968 and 1969. As such, the Mustang also wears Gulf branding, though we're sad to see the GT40's orange wheels aren't part of the build.
As for what's beneath the historic livery, let's just say this Mustang isn't hurting for power. The GT's 5.0-liter V8 is supercharged and produces no less than 800 horsepower (597 kilowatts) that will go through either the 10-speed automatic or six-speed manual, depending on how buyers prefer to handle such thrust. The suspension is also upgraded, though details on the changes aren't provided save to say it's a "lowered sport suspension." Body add-ons include a carbon fiber front splitter and side sills, a rear spoiler with a Gurney lip, a rear diffuser, and of course it wears special badging identifying it as a limited-production vehicle.
Brown Lee Performance is an offshoot of Brown Lee Ford in Morrison, Tennessee. 119 Gulf Heritage Edition Mustangs will ultimately be offered, available in either coupe or convertible trim and each will have a 3-year/36,000-mile warranty to boot. The car will make its first public appearance on Sunday, August 18 at the 2019 Pebble Beach Concours d'Elegance.
https://www.brownleeford.com/