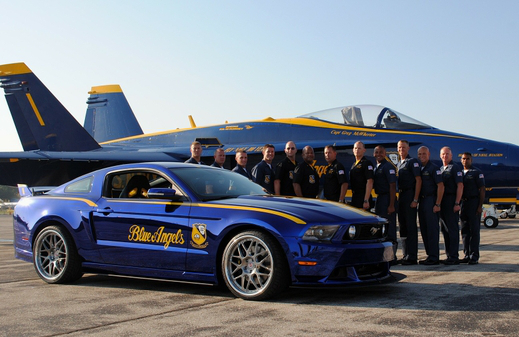 A one-of-a-kind "Blue Angels" edition 2012 Ford Mustang GT produced by a select design and engineering team at Ford Motor Company sold for $400,000 at the Gathering of Eagles charity auction Thursday evening. The auction took place during the Experimental Aircraft Association (EAA) AirVenture Oshkosh 2011, the world's greatest aviation celebration. A man from California purchased the vehicle.
All proceeds from the car donation and sale will benefit the EAA Young Eagles organization, which has provided
free introductory flights to more than 1.6 million young people since 1992 while also teaching the value of hard work, personal responsibility, and enhanced math and science skills.
*For more images Click Here
The "Blue Angels" edition joins three other one-of-a-kind Mustangs created by the Ford design and engineering teams for the EAA Young Eagles Auction in recent years, each generating excitement among aviation and automotive enthusiasts alike. Since 2006, Ford vehicles sold at EAA AirVenture auction events have collectively raised more than $1.7 million to support Young Eagles. Ford is the exclusive automotive partner of EAA AirVenture Oshkosh. The week-long event concludes Sunday, July 31 at Wittman Regional Airport in Oshkosh, Wis.
"The precision, discipline, and excitement that define the U.S. Navy's Blue Angels flight team are qualities we celebrate at Ford," said Edsel B. Ford II, a member of Ford's board of directors. "With this year's beautiful 'Blue Angels' edition Mustang GT, we've captured those qualities and paired them with the innovation Ford design and engineering team members build into all of our vehicles. Through this project, we take great pride in continuing our support for EAA and the Young Eagles organization."
The Ford "Blue Angels" Mustang pays tribute to 100 years of naval aviation, celebrated all week at AirVenture 2011 as part of the show's Tier 1 event status from the U.S. Navy tied to its yearlong Centennial of Naval Aviation festivities. The exterior of Ford's "Blue Angels" Mustang GT was inspired by the acclaimed naval aviation performance demonstration team and the F-18 Hornet aircraft it flies. The car's custom rear spoiler's vertical tailfins, the "screaming yellow" gloss accents, the inclusion of the Blue Angels script, and crest all are drawn from the Navy aircraft. Courtesy of Creations n' Chrome, the unique spectra-chrome blue paint - unlike anything available on a production vehicle anywhere in the world - was a showstopper.
With the Blue Angels crest stitched into its leather Recaro racing seats, the car's interior also features offset stripes inspired by pilot flight suits. The winning bidder also received a Blue Angels flight helmet autographed by the pilots and crew. Additional unique details of the "Blue Angels" Mustang include cluster graphics, performance gauges, navigation screen images, safety belt fabric, instrument panel appliques, rear seat-delete, and cross-brace, Blue Angels script in the illuminated sill plates and puddle lamps that project jet images when the doors open.
Under the hood, the "Blue Angels" Mustang is all performance with a Ford Racing supercharged 5.0-liter V8 engine producing 624 horsepower. The Ford Racing components also include a handling pack, performance exhaust, and racetrack brakes.
Mustang Chief Designer Darrell Behmer, Design Manager Melvin Betancourt, and Chief Nameplate Engineer Dave Pericak lead the design and engineering teams that developed the "Blue Angels" Mustang. The Young Eagles Auction is part of the EAA Gathering of Eagles at the EAA AirVenture Museum. The Gathering of Eagles annually draws more than 1,000 aviation enthusiasts in support of Young Eagles and other EAA programs that inspire young people to become engineers, aviators, astronauts, scientists, and innovators - the aviation pioneers of tomorrow.
"Ford is a longtime supporter of EAA and our mission to showcase the finest innovation and technology in flight," said Tom Poberezny, EAA, and AirVenture chairman. "The high interest among aviators in the US Navy and the 'Blue Angels' Mustang team made this a very sought-after item, ensuring EAA's ability to do some amazing things for our future aviation enthusiasts."
Other unique vehicles produced by Ford in support of EAA Young Eagles include the Mustang AV8R, with cues from the F-22 "Raptor," which in 2008 helped introduce the glass-roof canopy and delivered a record auction contribution of $500,000. In 2009, Ford's AV-X10 "Dearborn Doll" Mustang was crafted in honor of World War II aircraft. In 2010, two automotive icons - Carroll Shelby, formerly a U.S. Air Force flight instructor, and Jack Roush, a longtime P-51 pilot - collaborated for the first time to create the SR-71 "Blackbird" Mustang inspired by the legendary reconnaissance jet.